Warning: This book review contains spoilers for "The Devil Is A Part-Timer! Volume 18" by Satoshi Wagahara.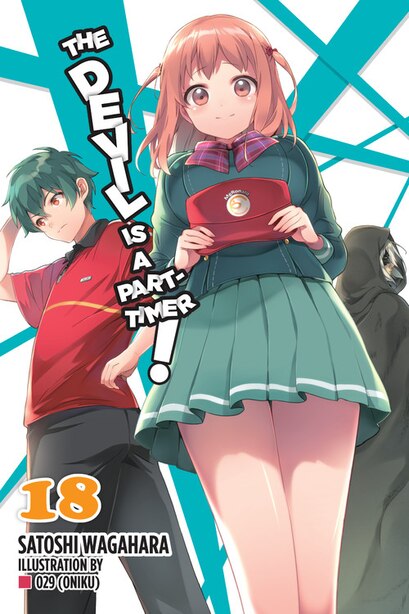 I'm back with another book review, and this time I'm reviewing "The Devil Is A Part-Timer! Volume 18" by Satoshi Wagahara! It was about time I picked up another book in this series to read and review, so I'm glad to do so this time around.
Here's a summary so we know what it's about:
"New management has taken over at the Hatagaya Station MgRonald location even as the veteran staffers leave one after another and Chiho isn't planning on showing up anymore either due to college exams closing in. Still, trying to adjust to the new store order might be the least of Maou's worries since he's also managed to rack up a huge debt with the landlady!!"
Plot Development: 4 out of 5 stars
Character Development: 3.5 out of 5 stars
I enjoyed reading Chiho's development as she started wondering about her future. Out of all the main characters, she's the only normal human. All the supernatural, earth-shattering events going on around her are the least of her problems. She has to figure out what comes next for her after highschool and what she wants to pursue in the future. Another problem is whether a future with Maou on a romantic level will even be possible, considering that he's a demon and she, well, isn't. She's become one of the most relatable characters in this series to me as a reader, and her trying to figure things out also makes for a great subplot.
The other characters were also fun to read, but I felt that they didn't have as much development this time around. This could be attributed to Chiho having a pretty strong subplot and focus on her. I hope the next few books focus on the rest of the main characters like they did with Chiho.
As for the main plot, it's clear that it's leading up to a huge finale battle between heaven and the demons in general. The sideplot also mirrors the main plot with many changes happening at once. Maou has to deal with changes at his workplace with people leaving and new management taking over. However, he also has to figure out what he himself will do in the future after the battle is over. The only complaint that I have about the plotline is the ending. It felt a little abrupt, even if it's a cliffhanger going into the next book.
Worldbuilding Development: 4 out of 5 stars
There were some pretty fun moments with Ashiya going out in the desert for plot-related reasons and him getting heatstroke. I found it amusing that even a demon can still suffer similar ailments that humans might. I also found the consequences of keeping the lizard demon from the previous book in the apartment amusing to read. However, I kind-of thought I'd see the consequences of the lizard demon play out more in the main plot. I'm also glad about the further worldbuilding development that we had back in the world our more-supernatural characters come from, too.
Overall, I'm rating this book 4 out of 5 stars!
It looks like were getting close to the end of the series. I checked on Wikipedia about this light novel series, and it turns out that it'll be end at Volume 21. This means that there are three books left to read and review. I wonder how this series will go, heading into the next three books, and I hope for a satisfying finale!
---
If you like this post, please share it with your fellow writer and readers! Also, feel free to follow my blog and/or like my Facebook Page, Twitter, and Tumblr for more reader/writer posts, fanfics, book reviews, and other updates!