Hello, fellow readers and writers! It's gonna be May!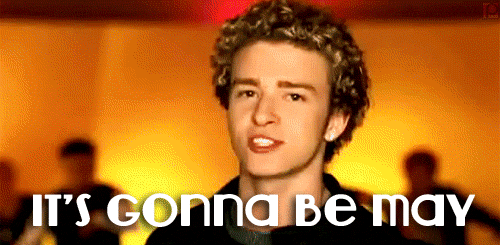 …I just had to mention it. I hope all of you had a wonderful April, and that May is just as good or even better!
I haven't written much about where I am in writing, and also to give you an update about how May will go in terms of content. With that in mind, I decided it was best to give you an update now on where I am in terms of writing the following:
The May 2021 Schedule is as follows:
Mondays: New oneshots in the Yakitate!! Japan/The Legend of Zelda: Breath of the Wild crossover series, "Trials Of The Wild," will be posted!
New oneshots in "Trials Of The Wild" will continue to be posted on Mondays! You can check it out here on Archive Of Our Own or start reading the series here on Fanfiction.net! 
I'm currently unsure of how long this series will be, but it won't be ending anytime soon. I currently have enough installments that will cover at least up until the end of May, so we'll see how it goes from there. Stay tuned for further news!
Tuesdays: New Book Review every week!
There will be a new book review posted every week on this site, on Tuesdays as usual.
Fridays: A new chapter of my The Last Story fanfic, "The Last Story: Breath Of The Wild," will be posted!
I will continue posting new chapters of "The Last Story: Breath Of The Wild" every Friday! You can read it here on Archive Of Our Own, or here on Fanfiction.net!
Unlike the "Trials Of The Wild" series, I do have an approximate of how long this fanfic will be—about twenty-nine to thirty chapters in total. This means that this fic won't be finished until early August, assuming that there are no additional chapters and that I don't shorten the fic.
Though I did not participate in Camp NaNoWriMo during this past April, partially due to burnout and also due to wanting to use the month to hone my skills as a writer (especially in poetry, given that April is National Poetry Month), I have a BIG announcement to make:
My flash fiction piece, "Waterlogged Boredom," will be published in the anthology Sensorially Challenged, Volume 3, edited by Christopher Fielden and Allen Ashley!
Back in January, my flash fiction piece "Waerlogged Boredom" was accepted for publication in Sensorially Challenged, Volume 3. The anthology will be published on May 8th. You can click here to learn more about the anthology and pre-order e-copies on Amazon right now! I'll also write another post in the near-future, to let you know when the anthology is officially available for purchase.
Any money made through anthology sales will be donated to the National Literacy Trust, an organization committed to helping raise literacy levels in the UK. I'm very happy to contribute to an anthology donating to a great cause, and also have my work featured with ninety-nine other authors.
I'm incredibly grateful to have the chance to be part of this anthology, and  I hope that you enjoy reading my story featured in this anthology and the ninety-nine other stories. I also want to give a big THANK YOU to Christopher Fielden and Allen Ashley for accepting my work!
I hope that all of you look forward to reading what I have in store for you, during this May!
---
If you like this post, please share it with your fellow writers and readers! Also, feel free to follow my site and/or like my Facebook Page, Pinterest, Twitter, and Tumblr for more reader/writer posts, fanfics, book reviews, and other updates!